Sunglasses

Eyeglasses

Sun Clips

Collaborations

Extras

Stories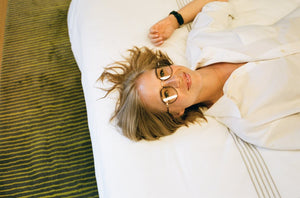 ---
Chloe King
Features /December
Words: Emily Draznik
Collaborator Photos: Emily Knecht
---
Social media is a beast. In the approximate 10 years since I made the fateful transition over from MySpace to Facebook, an entire industry has materialized around it. Some of the most sought-after jobs are from companies looking for people who understand it. How can likes and hearts translate into dollars? Just imagine that with every double tap there's a KA-CHING – that helped me put things into perspective. Big time bloggers are cashing in on their follower count through paid placement, tags and shoutouts. Aspiring fashionistas are cold emailing brands for sponsorship in exchange for social media callouts. You can trust me, I speak from experience. Now there's Chloe King. Young, successful, fashionable and on the top of her game because of her social media mastery. She's the type of fashion professional that graces the pages of magazines alongside the supermodels and celebrities of the world. She works for Bergdorf Goodman, a New York fashion institution, one that has been around before the iPhone was even a twinkle in Steve Jobs' eye. With the recent opening of our first New York store, it makes sense for us to get some perspective from the modern day Carrie Bradshaws of the world. So we chatted with Chloe to learn from someone who is deep within the social media trenches 40+ hours a week. Here's what she had to say.

What advice would you give to a younger person trying to break into the fashion industry? Be energetic, be positive, be creative. In a fast-paced industry, it's easy to get burnt out. I've found the people in the top tier have incredible energy and are always generating ideas: new concepts, perspectives, and ways to execute. As a social media manager, how many platforms do you participate in? Which ones do you consider to be the most valuable? We are active on all the majors: Instagram, Twitter, Facebook, Pinterest, Tumblr, YouTube, and we just relaunched our blog – it looks amazing.

Craziest NYC Subway experience. Everyone has one, go. It's true! I guess my worst subway experience was when my pass wasn't working and I refused to get a new one, so I decided to hurdle the turnstile, in heels, unsurprisingly tripped, and tumbled right into a group of cops on the other side. They were unimpressed, but I managed not to get arrested. Your best friend is in New York for a 12 hour layover and wants to see the city. Where do you take them? Buvette brunch, shopping at Dover Street Market, David Zwirner Gallery, drink at the roof of the Met, dinner at ABC Kitchen, after dinner drink at the Marlton.... Where's your favorite place to spend a long weekend? I love going up to my family's house in Maine. It's right on the beach, which is heaven in the summer. It's so peaceful and quiet – the antidote to New York City!

How do you unplug at the end of the day? I love going to see movies – my favorite theaters are the Angelika and Lincoln Plaza Cinema. It's a blissful 2 hours where you get murdered for looking at your phone. Any tips for managing a career in an industry that almost never sleeps? I think you have to roll with it! Take a night off if you need it, but one of my favorite parts of the fashion industry is meeting people. Without fail, I always walk away from an event or dinner having met someone interesting, experienced a new restaurant, get an idea for an event, etc. The energy here is a cliche, but it's true. What's your go to meme or gif? The new Giffage keyboard is one of the best inventions of 2015. I love a good Oprah GIF, and the Hills eyeroll is amazing.

In your experience, how have you seen the industry change as a result of social media? When I was in college my job didn't exist – it's pretty crazy that in such a short period of time social media has become such a monster. Social media is an incredible asset in finding new talent, reaching new customers, and equalizing an industry that was once very rigid. It's a point of access to connect people all over the world. However, the constant 24 hour nature of social media is also an incredible pressure to designers. They now not only need to worry about press feedback and sales numbers, but also how their garments will look on an iPhone. The most beautiful collections don't always translate well to a tweet! What three Instagram accounts should everyone follow (besides the ones that you manage)? Only 3?? Instagram is a great place for inspiration. I love @anothermag for fashion and art, @gucci because Alessandro is a genius, @ryankorban and @thelinenyc for interior, and @DailyOverview for crazy aerial views from all over the world.
---