Sunglasses

Eyeglasses

Sun Clips

Collaborations

Extras

Stories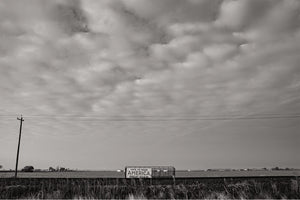 ---
Central Valley
WORDS: Drew Lumsden
PHOTOS: Rick Rodney
---
Spectacle 9
The Central Valley was the place Steinbeck used, so eloquently and honestly, to portray the Dust Bowl and the lives of the underclass and migrant workers. The place itself was a character in his novels, representing a robust farm landscape and a way of life that was distinctly American. Make no illusion, the work that provided a living didn't exactly inspire the rags to riches stories we so loved to be sold. It also didn't feel so dark as it does now.


So, you want to make America great again? Let's start somewhere along Highway 99 in the Central Valley of California. Stretching 450 miles long and encompassing 18,000 square miles, the valley represents a 1% share of America's farmland and an 8% share of its total output. That's $43.5 billion in revenue. Yeah, that seems like a good place to start.
With 6.5 million people living in cities with the worst pollution and violent crime statistics in the country, you start to wonder what's the story here? when you start poking around for answers you'll find that the same stories repeat themselves here: impoverished sections of an overwhelmingly agricultural workforce struggling to keep their heads above water in an economy dependent on the fertile ground beneath them. Irony pervades the Central Valley. While freshly picked crops are swiftly packaged and loaded onto eighteen wheelers and transported towards the horizon lines of distant cities, many of the mainly Hispanic communities along the 99 find it difficult to gain access to these same resources.




The America that we hope to make great again is represented well here. Communities of all ethnicities find communion with and respond to their environment here to maximize yield and, in turn, provide for their families. It's an honest and sobering relationship to a cyclical process. This cycle ensures that, propelled at its current pace and barring no change, it won't be long until the communities here are lost. Let me clarify, it's not as if I believe industry will not continue to thrive. Indeed, I think it will. It's more simply said: the cost has become too high. Moreover, we haven't stopped to consider whether we are shortchanging ourselves in pursuit. The lens we're using to look through has become obscured much the way fog sets in over the valley roads in winter months. Much like the fog, it is dangerous to continue full speed ahead in the face of it.




While we all pursue consumption of material items whose very need and use is questionable in our lives, we fail to notice what is lost in the pursuit and process. We strive to maximize our profits but fail to reinvest in our communities. We weaken the power of organized labor and cart the profits out of town. Education in these communities has grown feeble and many residents have in recent years had to constantly uproot their families in search of work. It seems that many find more of their needs met through local sects of the Norteno or Sureno gang communities that abound in the region.
At the root of it all, personal responsibility and accountability are central pillars on the way to the American dream. Given the recent events at Standing Rock, there is reason to remain optimistic that the rights of those without a financial axe to grind might begin to see the light of day; dare I take a step further to say...respected? However all you have to do is look around to see for yourself what's going on. If we are truly invested in making America great again we might do well to keep watch over the communities of the Central Valley in the coming years.


---