Sunglasses

Eyeglasses

Sun Clips

Collaborations

Extras

Stories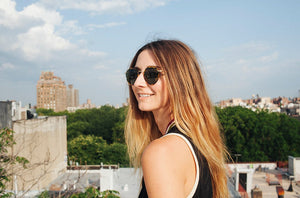 ---
Brie Welch
Features /December 18
Words: Emily Knecht
Collaborator Photos: Emily Draznik
---
It seems like the exodus from New York City to Los Angeles is all the internet can talk about lately. Starting Facebook comment wars between your friends about whether the West Coast is the best coast is definitely a thing. All the while, the one phenomenon that The New York Times isn't writing about is how native Californians are making the move to the Big Apple, opting for a drastic seasonal change as opposed to an eternal summer and a chance for Hollywood fame and fortune. Take Brie Welch for example: she's one of the choice few that swam against the tide and traveled West. Brie spends her days writing, producing and content creating for the one and only Garance Dore. Garance is the famous French fashion blogger who helped popularize street style photography, if you weren't familiar. As a native Californian living in New York and writing for a French fashion blog, Brie is a combination of contradictions. And like a lot of women whose work I admire, I decided to quiz her on pop culture and survival tips on how to live (and not just survive) in New York City. So here goes.

Strangest thing that's ever happened to you while living in New York. Too many - but all the strangeness makes for the best moments and people you become friends with. What part of the day to you most look forward to? Snack time. It's around 3pm when I feel like I might die if I don't eat a piece of chocolate or something salty. What's the best piece of advice that you've ever received? Always check your backside before you leave. Are you Team Jen or Team Angelina? If I have to pick, maybe Angeline because she is so badass.

As a kid, what did you want to be when grew up? An actor, and at one point, president (which really is so NOT my thing). What item from your closet would you save if your apartment was on fire? My mind always go to a pair of Prada brogues I have, they're the ones with a red rubber sole – but I would probably grab my Céline sandals and PERFECT Levi's if I could. Best method to cure writer's block? Watch Sex & the City - It sounds cliche, but all of her "wondering" is great for those aforementioned blocks. What's the worst date that you've ever been on? One where I split the check and received a kiss that felt like a fish was breathing on me. He was far too handsome to know any better I think. What do you miss most about California? And what don't you miss at all? The 365 days of sun and the relaxed vibes. I really don't miss the traffic – it's brutal.
---