Sunglasses

Eyeglasses

Sun Clips

Collaborations

Extras

Stories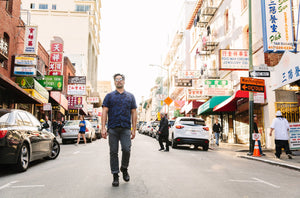 ---
---
I could wax poetic about Chinese food forever. Sure, there was a lapse in my love during my high school days – moments when my brother and I didn't want to eat yet another family dinner at Dynasty around the corner, or even one of my uncle's eight-course Sunday night extravaganzas. Uncle D would graciously ask the day before: Grocery shopping for dinner tomorrow. Any requests? I'd text/plead back: Boston Market!!! 341 miles away from home and a bit of retrospection later: I'm never texting that again. There exist at least eight varieties of regional cuisine in Chinese food, and over 4000 years of culinary history. Most are familiar with Panda Express or some tricked out, trendy fusion of ambiguously Asian flavors, but unless you know who to know or where to look, it can be tough to eat past the cliché Kung Pao fare. Even Yelp has limitations.

Enter Mister Jiu's, now open and right at home in SF's Chinatown. With neighbors that've been cooking Chinese food for decades, Jiu's strives to stay true to the cuisine while still incorporating that innovative NorCal spirit by making use of fresh, regional ingredients like Mendocino sea urchin or locally-farmed duck. It's a dream come true for owner and executive chef Brandon Jew (formerly of Bar Agricole, Cafe Zuni, Quince), who's spent nearly three years readying the restaurant for its launch. As he discusses his new venture, I can't help but think that this is a dream come true for us, too: the kids who've taken their upbringing for granted, the older folks proud to see rekindled interest, and everyone else who wants a taste because the food looks that damn delicious.

What were your early impressions and cultural experiences of Chinese food? My family lives very close to each other and I spent a lot of time at my grandparents' house growing up. We were always getting together and sharing hot pot or Westlake soup, almond jello...it was always a lot of fun and to me a big part of Chinese culture has always been about eating together. My grandma would take me on trips to Chinatown, where we go shop to shop scouting out all the freshest ingredients for dinner. I definitely still do that. How did Mister Jiu's come to be, and what's it about? Mister Jiu's came to be from my desire to preserve the traditions of my family and the food memories I had growing up Chinese-American. It also came to be from my frustration with the way most Americans view of Chinese food: greasy, cheap, unhealthy. I wanted to create a space that was personal and expressed food that was contemporary. To me, expressing San Francisco Chinatown and the local produce of the Bay Area is important.

Local, sustainable, and organic ingredients have been a huge focus in U.S. food and dining. Is this emphasis new to how Chinese food is traditionally done? I think it might be new to some, but traditionally in this cuisine you look for the best ingredients. For me it's definitely not a trend, it's a choice I made a long time ago. Chinese cuisine is a vast landscape with a lot of local variations; can you tell us more what you're doing with your Chinese food? Can we expect organic orange slices for dessert, or even things like old school herbal soups and bitter melon? My Chinese food is a combination of California and Cantonese cuisine. I cook with the seasons and weather. I like to discover the nuances of flavor in different produce. For example, English peas are tender and sweet in the beginning of the season and barely need to be cooked, but at the end of the season they are starchy and are good in soups. As far as dessert, I love some peak-of-the-season fruit at the end of a meal, but we're also happy to have talented pastry chef Melissa Chou. She grew up in San Francisco and knows the Chinese flavors, but is transforming them into something unique and pretty for the end of the meal. Same deal with cocktails: I have long time friend Danny Louie at the bar making some really special drinks with tea, salted plum, jasmine...they're kind of an herbal soup!
I wanted to create a space that was personal and expressed food that was contemporary.
There's a lot of history where you decided to set up shop – the Four Seas' huge space was a hotspot for dining culture in its heyday. I love being in Chinatown. Our building has been a restaurant since 1890, and we're the third restaurant there. The last tenant was there for 50 years! The space has an amazing history and has been a place to celebrate for so long – we definitely want to keep that going. We haven't gotten to the third floor yet, but we're planning a lounge and big private dining room.
YOU + JIU'S. STAT.
Book it over to their site so you can feast ASAP. And for all gramming purposes: @misterjius.
-
RELATED READS:
Jiu's at Scribe Winery, November 2015
---