Sunglasses

Eyeglasses

Sun Clips

Collaborations

Extras

Stories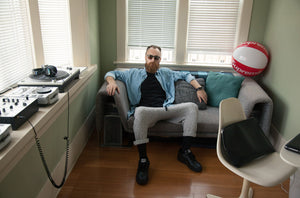 ---
Bobby Valentine
Photos: Cristina Dunlap
Words: Emily Draznik
---
Not to sound cheesy, but at GLCO we like to hire people who are actually passionate about eyewear. The beautiful thing about this industry is that it is one of family. Not only does our brand stem from a history of eyewear, but we have lots of people in the company that come from generations of opticians. Bobby Valentine is one of those people. When you grow up around the eyewear industry, it's only a matter of time before it draws you in. Bobby's career was sparked by a love of vintage eyewear and he has a pretty impressive collection himself. Next time you're strolling down La Brea, you'll probably spot Bobby. He's hard to miss. With a formidable beard and remarkable sense of style, this guy can make magic happen when it comes to finding the perfect pair of frames. He's also the mastermind behind the GLCO sandwich board, but you didn't hear that from us.

How did you first get interested in eyewear? I did the music thing for a while. I was working at Trader Joe's part time and DJing on the side. I eventually started making my own music, which led to traveling to Europe and other out of town gigs that sort of became a career. It was cool for a bit; I got to travel for free and see some things I never would have seen otherwise. But the lifestyle I was living took a toll on my health and I needed to switch things up. I was always into fashion and being creative, and I started paying more attention to eyewear (via my dad). I got really into vintage eyewear and started warming up to the idea of becoming a 3rd generation optician (my mom was also an optician before I was born).

How expansive is your vintage eyewear collection? Do you have a favorite piece that you'll never sell? I have a few frames, probably around a couple thousand. 90% of them are vintage frames from the early 1900s to the nineties. I really like 60s-80's. So much cool shit. My favorite piece is a pair of Boeing by Carrera frames from the 80s that my dad used to wear. Besides their sentimental value, they are pretty rare and worth around a stack. I'll never sell 'em though. Tell me about your dog Oscar. He's a 6 year old Boston terrier and he's the best! He's like a little pig. He snorts doing anything: sleeping, running, eating. He loves riding in the car, so I take him with me on most of my outings—he's my little navigator. He used to come to the shop with me, but sometimes he gets a little too turnt up with customers and other dogs, so now he spends his days with my girl who works from home. He makes people happy just by looking at his weird little face.

When styling someone with a new pair of frames, where do you start? I take a look at their face, then at their outfit, and I pick out a frame that I think will fit. Sometimes I nail it on the first try; if not, it's usually pretty close. I'll pick the next frame based on what I liked and disliked about the first one. I want them to look their best and represent us well. If something doesn't look good, I'm gonna tell you, in a nice way of course.
La Brea is good vibes—
all your friends are gonna be there.
- Further goodness to check out: Bobby's guide to retro eyewear Jason Casillas of La Brea Ryan Ford of AKC
---