Sunglasses

Eyeglasses

Sun Clips

Collaborations

Extras

Stories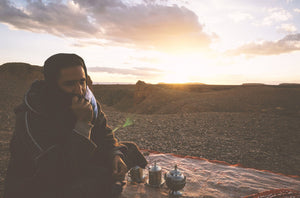 ---
---
It is the photos I didn't take in Morocco that I want you to see. So many images, some uncaptured so as not to make humans feel like exhibits in a museum or monkeys in a zoo. Others missed because I was too slow to the draw, the scene seen and gone before I could point my camera at it. It was a pleasurable form of torture for a photographer to be bobbing in an endless sea of chaotic but harmonious art; unable to capture it, render it as a 4x5 extraction of the infinite visual bliss. Please understand me, everything was a picture I wanted to take, to have, to hold and share. I wanted you to see it. Morocco is the kind of place that helps you comprehend how magnificent this planet is. I wanted you to taste the deliciousness of it all, let your eyes feast on the complex beauty that is Northern Africa. Be fed like I was fed.
The country is sumptuous in its observable merchandise, it fills you up, full to almost bursting. My eyes were wide in the hectic alleyways of the medinas, full of scooters and bikes and donkey-drawn carts and men wearing wizard robes and women covered head to toe. I stared at stacks of fabric, rearranged rainbows lit by dust-filled slabs of light. I squinted through sandalwood smoke forming clouds around babies sleeping in diagonal slumps, strapped to the backs of their mothers. At night, in a vacant alley after all the other vendors had gone home, my eyes were drawn to a man in the center of several pastel pyramids of perfectly stacked sweets sparkling like jewels in a singular fluorescent light. It hurt to not take this beauty into my lens, but it was not my place to take from him his oblivion, to render him my art.

From the rental car rolling through the High Atlas Mountains, I watched the moving pictures outside my window playing friends and families, almost always dressed in complementary colors, walking with their arms around each other's shoulders, holding hands, bodies close, laughing. I took in the scene of an old man in a white robe holding the hand of an old man in a black robe, a living, breathing yin and yang. And then, in the vast expanse of the Sahara, cresting a hill, a babe rollerblading along the high mountain road came into focus; hip haircut, hip clothes, holey jeans tucked into white rollerblades gliding like a scene from a music video you wish you were genius enough to make. From the bus on a road up high, I took in the view of boys playing soccer in a rectangle of khaki cut out of a sea of green. From the train I beheld a little girl in a bright red dress running through fields of rust and dust, the land flat as glass behind her and leading sideways into blue sky heavens. The blue the blue the blue. So much blue. Endless blue.

Morocco's endless alleyways, textiles, sights, sounds, movement and color. The endless river of confetti-sprinkled garbage that runs through the country. All of it. So wonderful. The sunlight through the train windows. The passengers. The children. Morocco is warm, even in winter. No photograph could capture the vastness of the land, the depth of the country's contrast, all the intricacy that baffles the mind with its beauty. Just go, see it for yourself. There's also a chance you will experience the exact opposite.
---