Sunglasses

Eyeglasses

Sun Clips

Collaborations

Extras

Stories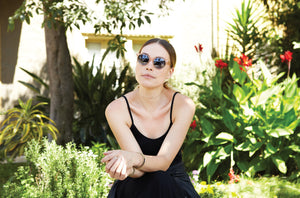 ---
Blanda
Features /July
Words: Olivia Purnell
Collaborator Photos: Chris Buchanan
---
SPECTACLE 8
As soon as you meet Blanda, dear reader, you'll want to work with her. We sit down over coffee and 15 minutes in we're both talking passionately with our hands about subjects as frothy as champagne (she recently traded a mural for an unlimited supply) and as weighty as the link between anxiety and the intellect. Even over espresso, she's the quintessential co-conspirator. She's at ease with herself and with the chat we're having, wherever it might go.
Obviously, Blanda's worked with others before you — brands from Obey and Volvo to Barbara Bui — making drawings, paintings, murals, jewelry, and leather jackets. Even when she's collaborating her work itself is introspective. Often featuring the female form, her paintings and drawings seem like a conversation about what it means to be a singular self-contained entity in this mass of energy called life. And reader, she's excited about that exploration. Her unaffected enthusiasm feels rare in the jaded wilds of 2016. There's authentic joy when she talks about her newfound love of oil painting, freehand mural composition, and the human condition at large. Collaboration specifically sparks her. She's interested in the alchemy of creative minds and common purpose, and she's always down for an amazing partner in crime. If you're lucky, maybe that'll be you.
BLANDA BLANDA
More art goodness on her website and IG. --- Check out our GLCO x Blanda collab frame, a limited edition dip dyed Loyola in Blanda Blue. The frame comes with custom packaging and cleaning cloth, designed in collaboration with the artist.
---