Sunglasses

Eyeglasses

Sun Clips

Collaborations

Extras

Stories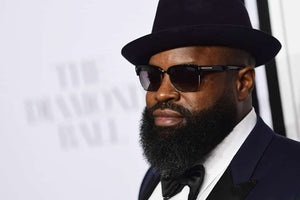 ---
Black Thought from the Roots
---
If Tariq Trotter, AKA Black Thought (AKA The Fifth Aficionado AKA The Bad Lieutenant, AKA Black Deepak Chopra, etc.) is a household name, it's because of his long running role on The Jimmy Fallon Show. The Roots -- the band Thought and Questlove founded in 1987 – had already achieved legendary status in the music industry. The move to Fallon has certainly brought the groups' notoriety to even greater heights, it would be a shame if that is all the viewer knew of them. As back-up. For Black Thought is one of the greatest rappers of all times. In fact, his name is routinely mentioned as a top 5 contender for the title of the best to ever do it. Dead or Alive. Thought is also one of the best dressed men in hip-hop, and has been for decades. Dark sunglasses are his signature – usually in a chunky acetate, but the styles vary. After all, there are 365 days in a year. This is by no means based on exhaustive research, but I personally have not seen his eyeballs since 1998.
Black Thought is one of the greatest rappers to ever live, but he is also one of the best MC's. There is a difference and it goes back to the beginning of Hip-Hop. At the original jams in the Bronx, and later other boroughs, the MC (master of ceremonies) helped the DJ keep things moving from the stage, creating the vibe of the party. This included rapping, but was so much more. Seeing the Roots perform live is to see one of the tightest and most versatile bands in show business, and at the center of it all is Tariq Trotter.
But back to the clothes: Thought has kept it crisp since the early 90's – at first in fatigues and Clark's Wallabees or Desert Boots, and progressing with the times (and his age) into more sophisticated styles. He's rarely without his dark lensed frames, and even less often without a fedora cocked just so. If you questioned the appropriateness of sunglasses and a hat with a tuxedo, question it no more. And you question his skills, watch this and don't do that either.
---