Sunglasses

Eyeglasses

Sun Clips

Collaborations

Extras

Stories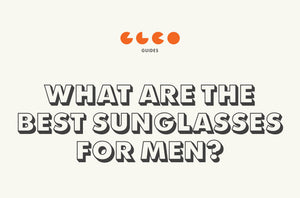 ---
Best Sunglasses for Men - 2018
---
Best Men's Sunglasses for 2018
Best Sunglasses for Men: 2018


Finding the right men's frame may prove difficult only because of the many desirable options for today's fashionable man. There are several proven, timeless styles that are easy to work into most men's daily wardrobe. And for those who believe fortune favors the bold, there are more daring and adventurous shapes. If you're either switching up your style or building out your collection, this guide will help figure out which shades will suit you best in 2018.




If you had your druthers, your ideal pair of sunglasses would be classic without being common. Case in point: Calabar. You know him – or do you? Again, Calabar is something completely new but inspired by the classic wayfarers our idols wore. They're the perfect frames for the beach, a road trip through Marfa, a trip to the dog park. These guys get along everywhere. They're solid and they're not what the guy next to you is wearing.
Convoy. These frames are sophisticated without being pompous. They provide a lot of coverage but they don't weigh heavy on your face. You'll get a lot of leverage out of Convoy, as they are an instant upgrade to any ensemble. Convoy does a lot of the heavy lifting without seeming like you're trying too hard. They're a throwback and modern, all in the same.




However, if you're looking for classic shapes, you've come to the right place. GLCO has a steady roster of tried and true classics that are some of our most popular frames to date.
Considered to be the patriarch of the GLCO family, Brooks is the perfect blend of a classic square shape mixed with a rounded retro influence. It's a great frame to try if you're looking to move away from those tired, heavy Wayfarers for something sleeker and more tailored. A timeless shape, Brooks is a solid choice for anyone with a strong sense of style.
Looking for a more hip round look, but don't want that John Lennon vibe? Hampton Sun is your saving grace. It's a modern take on a P3 shape — think preppy and almost perfectly round — with more room in all the right places. It's the perfect accessory to polish off with a suit or simply class up your casual attire. For our five year anniversary, we've taken the liberty of mixing and matching mattes with vintage-inspired tones and temple tips.




Ready to leave the square shapes behind? The sophisticated Kinney frame will make for an effortless transition. Designed to never go out of style, the Kinney's soft oval shape keeps its classic feel in a wide range of colors. A perennial favorite, Milwood charms with a round eye shape and gentle curves.




If you like classic aviators, we've got a couple of frames that'll do you right. Culver, an updated take on the classic aviator style, remains tailored and sturdy without looking or feeling costume-y or delicate. It's the perfect grab-and-go frame for any occasion. The semi-flat lenses elevate this classic style and sets it apart from what the other guys are wearing.
If you're looking for a timeless aviator shape with modern details, Riviera is your frame. Riviera is a light metal aviator with prominent bridge and Southwestern-inspired filigree, perfect for stylish men with larger noggins.




If you're the type of man who's feeling fairly confident with his eyewear arsenal and is looking for something different, the GLCO x Nick Wooster Harding is an Arthur Miller revamp for the 21st Century man. If you're unfamiliar with the playwright, you've probably heard of his wife — Marilyn Monroe — which should give you a pretty clear idea of how this style attracts. Updated and refined from the 50s, Harding gives the perfect edge to a vintage shape.

Not daring enough? Check out Van Buren, the ultimate addition for any glasses aficionado. It has a similar shape, but stripped down to its bare essentials: classic, clean and edgy. And it folds to fit in your shirt pocket. Effortless style on the go.


CLIP ON SUNGLASSES FOR MEN
For the Sun-Soaked Space Savers


Last but not least are clips, the accessory for your accessory and the no-brainer for anyone with a prescription. Our flagships can customize clips for any and all frames, so there's got to be a perfect one for you out there.




Hopefully this guide has helped find your perfect pair of shades for 2018. Whether you're ready to stand out from the crowd of rampant Ray Ban wearers, spice up your wardrobe with a round retro look, fall in love with that elusive stylish large frame or make heads turn with a bolder look, GLCO has it all.


- You might also like: GQ: Find the Perfect Glasses for Your Face Best Sunglasses for Your Face Best Sunglasses for Women - Shop the our newest arrivals: Sunglasses for Men
---