Sunglasses

Eyeglasses

Sun Clips

Collaborations

Extras

Stories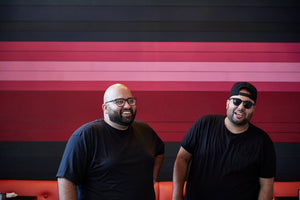 ---
Badmaash
WORDS: ADAM JOHNSTON
PHOTOS: JOSHUA SPENCER
---
The first time I went to Badmaash was on a date. It was summer, it was hot, the girl wore a shimmering white dress that erased the day-glo stripes of the space's south wall. The restaurant had just opened, appearing on local listicles of what to do, where to eat, where to be seen in downtown Los Angeles. Indian wasn't my first choice for a first date, but this foodie chick told me we just had to go. Badmaash means badass, she explained to me over drinks. A row of Gandhis along the wall looked on from behind their Kanye colored wayfarers.


Badmaash is a family affair, founded by brothers Arjun and Nakul Mahendro with their father Pawan cooking in back. Their menu nods to tradition—featuring mainstays refined like classic butter chicken, good ol saag paneer, a murderers' row of tandoori clay oven dishes—but also context: spiced lamb burgers, chili cheese naan, chicken tikka poutine. The subcontinent meets SoCal (and Canada!) in the heart of LA, and you find yourself in a gastropub with Indian spices in the air.



Old man Mahatma presides over the spirit of the place: bold and brave, free thinking and funny, respectful of the past but also irreverent, revolutionary even. As Nakul puts it, "If Gandhi were our age today, he'd totally be a hipster. He's like 'peace, love, nonviolence, eat healthy, be good….'" And like everything Gandhi practiced and preached, Badmaash is all about love – love for family, love for food, for where you came from, for where you are. The second time I went to Badmaash was on our anniversary. Gandhi was smiling. Badmaash means love.

---