Sunglasses

Eyeglasses

Sun Clips

Collaborations

Extras

Stories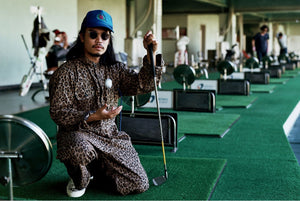 ---
Bad Driving In Koreatown
Features /February
Words: Damien Fahrenfort
Collaborator Photos: Aiden Cullen
---
To explore the adult playground that is the "Koreatown Driving Range," as the Angelenos seem to call it, I grabbed K Town resident Kyle Ng and headed down to the Aroma Spa & Sports Center. If you don't know Kyle, he is the founder of the fast-growing uber cool-kid brand Brain Dead, which is a recent transition from being one of fashion's most successful International Men of Mystery for nearly a decade. When I took this assignment I couldn't help wondering why the hell the "driving range" was actually named Aroma but only ever referred to as the "Koreatown Driving Range." Nonetheless, we set off on our mission, and after a quick lunch at Pollo a La Brasa, a Peruvian chicken spot, we rolled around the corner to check it out. It's hard to miss as it sits in the middle of the bustling metropolis that is Los Angeles with its 15-thousand square foot green net around it with a massive bullseye plopped in the middle. As you pull into the parking garage, your eyes can't help but look up and see the net above you with golfers hammering balls from four levels. It's literally raining balls on your head.
Once you're in the building, it's not too hard not to get sucked into the wildly unattractive poorly merchandised retail stores on the ground level, but we're not there for shopping, so we keep it moving. We head up to the third level to pay for the balls, and we're on our way. The staff definitely have a sort of 'fuck you' attitude that adds to the experience, for better or worse. I'd say if you're an active Yelper, this place certainly isn't for you. Unlike any other range I've been to, you don't get sent on your way with a bucket of balls. You're given what looks like a credit card, assigned a tee box number, and told to insert the card into the machine at your tee box. The balls are delivered through a fully automated system that collects the balls, sends them through pneumatic tubes, and mechanically tees up a new ball for you each time one is hit from your station. A dream for those with a bad back, or just fucking lazy like me. As you hammer one ball down the line (or to the left like Kyle), before you can look down, another one is there waiting to get hammered at the back bullseye.
You will likely be the most underdressed person at Aroma, too. Golfers are really particular about their gear. And have you ever met a Korean? If so, you know it's next level. Kyle Ng isn't Korean, and he also doesn't golf. But he's an aficionado on fashion and trending hard in the streets. Kyle has drip. He believes there are elements in street culture or fashion where golf can be big, if more people grew up with golf. However, he thinks golf fashion is funny. It's like they'll wear a Callaway hat when they're not golfing, kind of the same way a skater wears skate clothes when they aren't skating, but, let's be real, bermuda shorts? a trucker hat? birds of paradise print on your Tommy Bahama? Oakley Gascan's? Get the fuck outta here! Don't worry, Kyle has no interest in designing a golf inspired collection, but the idea of designing a golf shoe does excite him. For a sport that's viewed as elitist, golf has surprisingly shitty food at most driving range club houses. Hot dogs and chips with soda fountains, crap beer, and gas station coffee. So with low expectations for their "19th hole," I'm actually surprised by the selection and impressed by the quality. It goes well beyond the healthy matcha smoothie options and the espresso out of their La Marzocco coffee machine. Turns out Aroma is a full blown training and wellness facility equipped with a fitness center that offers personal training as well as yoga, pilates, spin, dance, and kickboxing classes. As if that's not enough, there's a junior sized olympic swimming pool and full spa with steam, sauna, ice bath and of course a Shiatsu massage. You'd be hard pressed to know or find any of this on the property with the level of service and signage. Nevertheless, the official name all makes sense to me now, and so does the nickname.
Once our experience commenced, I couldn't help but think about the morning of my wedding. I was fucking anxious, and the hangover from our rehearsal dinner didn't help my nerves. Eighteen months to organize the few simple tasks my fiancée had given me, and, true to form, I had left it all to the last minute. I hadn't written my speech yet, and all the family in town from around the world added to the mounting pressure. I was getting married that afternoon in Palm Springs, so as I lay there anxiously at 6 A.M I wondered if I had enough time for a round of golf. I had always imagined I'd have a surf the morning of my wedding to shake the nerves, but, due to the venue, I would have taken a couple reps in the gym, a quick bucket of balls at the range, or even just a soak in the sauna instead. I would have come out on the other side feeling ready to tackle marriage, my speech, and anything else this day could throw at me. A venue where I could have done all of the above does exist, and it's been hiding right below our nose all this time in Koreatown.
---