Sunglasses

Eyeglasses

Sun Clips

Collaborations

Extras

Stories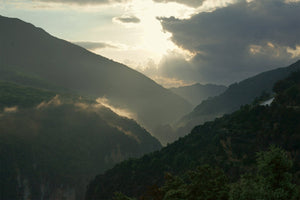 ---
Backpacking
WORDS & PHOTOS: Molly Steele
---

A good friend of mine once taught me an exercise she does at the end of each day: she simply asks herself what the highs and lows were. I just traveled overseas for nearly two months and have only just begun to look back with this in mind. It's crazy how much I took for granted, from watching the sunset from a hilltop over the blue city of Chefchaouen, Morocco to hiking with mules through the mountains in the Basque Country. I absorbed a few new foreign words, got clear on my priorities in life, and developed an absurd sock tanline.



Several years ago I got one of those cheesy tattoos that says "YES" and to my surprise, it transformed my life. Having a Yes attitude has gotten me into all sorts of situations…like the one you're reading about now. After flying to London, my boyfriend and I had no formal plan for how to spend our two months and on a whim snuck onto a train from London to Paris, where we caught a flight to Tangier, Morocco. Having had no former plan to visit Africa on this trip, we took it day by day. Morocco was SO affordable and therefore easy to make work into itinerary on a moment's notice. Highs in Morocco include but are not limited to: seeing the streets come alive at night with markets, kids playing in the street at all hours, the humbleness that seemed to run through every person, bottomless Moroccan mint teas and olives, cats in the airport, and dirt cheap everything.




After missing a flight or two, we made it in to San Sebastian, Spain, which felt worlds away from Morocco. I've been fascinated with the Spanish Basque Country for a long time because of its ancient, mysterious history and political context. Also, the coast of Northern Spain looks like Big Sur, so that was enough for me. It was here that we soaked in some much-needed R&R. At our hotel on the beach, life was definitely in stark contrast to our $30 riads in Morocco the week before. The pervasive theme through all of our destinations was just how old everything was. Both the stone Spanish casa rurals in the countryside and the old medieval city of Fes in Morocco carried a history through the many structures like a whisper.




In France we rented an indescribably beautiful 1978 VW camper van, which carried us like a magic carpet through the French Alps, Provence, and along the Cote d'Azur. Having only ever heard about the famous South of France, there was no better way to get acquainted than a road trip. Surely the French must be jaded by the excitement of tourists over their picturesque hilltop cities because they come a dime a dozen. Narrow stone streets lined with winding village walls weave up and down. Our camper had everything we needed to cook full meals and sleep wherever we parked. From turquoise rivers winding through canyons to the famous beaches of Saint Tropez, we embraced spontaneity and adventure, even sometimes doubling back because some places were that good (I'm looking at you Gorges du Verdon).




Every place had its unique daily highs and lows, language, and culture, with the one thing constant being the desire to wake up with a "yes" to it all. Perhaps I'll never eat another pigeon in Morocco, crawl deep into a narrow cave in Spain, or sleep in the attic of a bat-filled barn in France, but I'm happy to have tried it all once.


---