Sunglasses

Eyeglasses

Sun Clips

Collaborations

Extras

Stories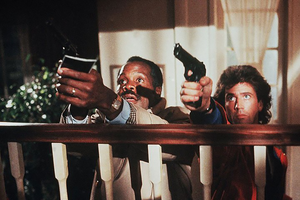 ---
At the Movies: Holiday Edition
---
Every family, or better yet every person, has films that they consider to be part of a holiday movie canon. Generally, these movies fall into two categories. The first is movies about the holidays. These are movies meant to reaffirm our belief in the goodness of man and – though tragedies abound – goodness triumphs in the end. They include changing of minds, thawing of hearts, and repairs to relationships asunder. We're talking It's a Wonderful Life, Miracle on 34th Street, Christmas in Connecticut. We will not talk about those movies, instead we will discuss the second group. Movies whose plots happen during the holidays but eschew saccharine sentiments for bullet holes and one liners. Some of them even have happy endings.
Die Hard
It's Christmas Eve and NYPD detective John McClane (Bruce Willis) finds himself in Los Angeles on a mission to reconcile with his wife. Unfortunately for McClane, he must first endure a party at his estranged wife's employer, the Nakatomi Corporation. Unfortunately for the Nakatomi Corporation, their headquarters is seized by Hans Gruber, (played in a star turn by Alan Rickman) an international terrorist and thief intent on stealing $640 Million in bearer bonds. Unfortunately for Gruber, McClane is changing his clothes during the takeover and manages to escape into the building to single handedly (and barefootedly) wage a counter insurgency.
Gremlins
Randall Peltzer is a loving husband, doting father, and inventor with a terrible track record. While out trying to sell his latest invention – the bathroom buddy – in Chinatown, he comes across a captivating creature in an antique shop. The Mogwai, he is told, is not for sale, but with Christmas fast approaching he is adamant about having the furry little guy as a gift for his son. Unbeknownst to his grandfather – the shopkeeper – a young boy agrees to sell Peltzer the Mogwai while cautioning him on the three rules that must be obeyed to keep the Mogwai safe. Randall passes these rules onto his son Paul when he delivers the little guy (now named Gizmo) on Christmas Eve. In short order, those rules are broken and the whole town of Kingston comes to find out they were not put in place to keep Gizmo safe, but the other way around.
Trading Places
Randolf and Mortimer Duke are masters of their universe. Duke & Duke Commodity Brokers is one of the largest firms in Philadelphia and both brothers are enormously wealthy and influential. They often bicker and wager with each other and have set out upon their latest bet on the dominance of Nature or Nurture in controlling the human condition. Over the course of Christmas to New Years, their experiment brings Louis Winthrope III (Dan Aykroyd) to the gutter and elevates Billy Ray Valentine (Eddie Murphy) to the heights of society and wealth. The Dukes want to see how each man will react to their new station. The bet is for $1.
Brazil
It's just before Christmas in an unnamed, crumbling, Byzantine bureaucratic, totalitarian consumerist society some time in the future (maybe now?) and Sam Lowry (Jonathan Price) is a low level employee in Central Services. He has no ambition for his career – something his highly connected and plastic surgery-addicted mother is displeased with. Sam is good at his job in Information Services and doesn't want the headaches of advancement. But while finding and attempting to fix a typo that mislabeled a cobbler as a terrorist, leading to the cobbler's demise, he happens upon the girl of his dreams. Literally, he's been dreaming about this girl (and himself with wings and killer eye shadow) for years. His pursuit of her brings him into conflict with the forces he's tried so hard to hide in plain sight from his whole life.
Lethal Weapon
The holidays leave many people feeling depressed, but LAPD Sergeant Martin Riggs (Mel Gibson) really doesn't want to go on living. Following the death of his wife, the police psychiatrist thinks he should be put on medical leave, but his captain and his new partner Roger Murtaugh (Danny Glover) think he's faking it for the pension. A series of explosive events convince Murtaugh otherwise, but Riggs is former military Special Forces and handy in a tight situation. And after offering to help a former army buddy save his daughter from malevolent and far reaching forces, the situation gets tight indeed.
---