Sunglasses

Eyeglasses

Sun Clips

Collaborations

Extras

Stories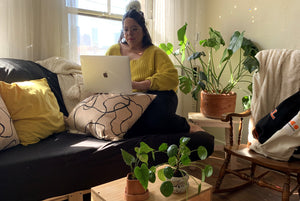 ---
At Home with Vanessa Hernandez
As we navigate these uncertain times, we're realizing human connections matter now more than ever. In our new series At Home with Team GLCO, we invite you to get to know the team and share how we're coping and staying connected in this time of social distancing.
---
Meet Vanessa Hernandez, Senior Designer
What's been the biggest challenge working remotely?
For me, the biggest challenge is the lack of the social aspect – since I make creative assets that support multiple departments, I loved being able to roam around and ask the questions I needed, and it was a bonus that it always felt like I was talking to friends who happened to be co-workers. I freelanced for a lot of my career, so that helped the transition of working from home go pretty smoothly. Now the biggest challenge is figuring out what to do with the all the stuff I've been baking. Who wants churros?
If you're working from home, what's your best advice for productivity?
Communication and boundaries have been key for me. Letting my team know what I have going on has afforded me a lot of grace to keep up the things I need in order to stay productive. Also, as cliche as it is, figure out what works for you and communicate that. If I have the runway to spread out my working day into productivity blocks that each last a couple hours, I can keep my energy up without getting frazzled. I definitely feel glad to work with a team that understands each other's needs and gives space for that. Keeping my workspace somewhere I want to be has also been helpful – helps to change it up a bit. I do a lot of kitchen-to-couch ping-pong.
Which self-care practices are helping you cope with stress and/or anxiety?
Since I can't really access my go-to's lately, I've been letting myself indulge in whatever feels good at the moment I feel the anxiety surface. Sometimes I bake, sometimes I paint, sometimes I binge watch TV, some days I do nothing at all. Now that I've gotten used to the new lifestyle a bit, I've been making an effort of re-centering my focus on things that I can control, make me happy, and let me have fun. I have weekly virtual piano lessons and dinner plans that keep me focused on having something to look forward to. It's also been nice to rediscover things that I once loved and made me feel light, like long aimless drives. I did that recently and I highly recommend letting yourself go get lost. Extra points for windows-down, music-blasting singalongs.
What're you wearing?
I have prescription frames lying around my apartment so lately I've just been picking up whatever's closest, but if I'm choosing to actually "get dressed", my go-to is my oversized Tuscany in Rose Gold.
What's the best piece of advice you've received or can give during this time?
Be nice to yourself. There's no right way to navigate any of this, and we shouldn't uphold expectations of 'business as usual' in any aspect. I think giving ourselves some grace is especially necessary now. Have fun, be kind.
What's the first thing you're going to do when this is all over?
I'm definitely rebooking the trips that were cancelled. I can't wait to pack a suitcase again. Swimming! Spending a full day in the ocean. Going to municipal pools. Having picnics with my friends on my rooftop. Train trips. All the little things I took for granted.
SHOP THIS STORY
---