Sunglasses

Eyeglasses

Sun Clips

Collaborations

Extras

Stories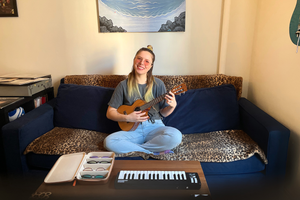 ---
At Home with Olivia Didrichsen
---
What is your role at GLCO and how long have you been on the team?
I'm the store manager of our new Brooklyn store in Williamsburg, and I've been working with the company for almost 2 years!
Favorite frames at the moment?
Favorite frames right now are the Troubadour and the new Carrol that just came out. I'm really big into oversized glasses.
What do you like to do on your day off?
Since I'm a musician, I spend my days off making music with my ukulele and singing. I also like to make beats on my computer! My boyfriend and I are record collectors, so you can see us in record shops sifting through every record they have.
Tell us about @tintmagician.
My co-worker, Caye, and I worked alone together for about 6 months and learned how to do everything together. When my role became heavily focused in the lab, Caye suggested I make an Instagram to feature all the tints I do. It also has been a great way to show people, inside and outside of the store, what we can do in-house with lenses.
Favorite custom dip-dye you've done?
I just made one dip-dye recently that is one of my favorite tints so far. I call it "pink lemonade," and it's a rosy pink that gradients into an orange-ish yellow.
Where do you get your inspiration for colors?
I like to first look at the client's personal style. If they seem more funky and bold with their style, I'll suggest more contrasting colors and gradients I haven't done before. If they're a bit more reserved, I'll create colors that match the frame or are a classic combo we've done before. Everyone is different, and everyone reacts differently seeing through certain color tones. It's all about working with the client's vision and creating something that elevates their current look. That's why I suggest people have an idea of what their ideal frame looks like before coming in for a tint, because then I can make a suggestion without the options being overwhelming!
Best unexpected color combo?
I made a purple to brown/beige gradient that totally worked. When it was first requested, I thought "Ok this could be great, or a terrible mistake," and it ended up being one of my favorite color combos I've made so far! The tint is featured on my tint-stagram.
What do you predict will be the most popular styles of 2022?
So far, I'm seeing a lot of clients interested in chunky frames. I'm expecting the Troubadour to continue to rise in popularity, and also our new Broadways that just came out. Those are fabulous!
Where are your favorite spots in Brooklyn to eat/drink/shop?
Conveniently, our Brooklyn shop is right near some of the best shopping and food spots! I'm huge into thrifting, so it's nice to have Buffalo Exchange, Crossroads, and Beacon's Closet right around the corner. You can't beat Partners for a great coffee shop, making it the spot for all the locals to hang.
Anything you're particularly looking forward to in the coming months?
In terms of business, I'm really looking forward to some of the collaborations that are coming out within the year. Personally, I'm working on a few collaborations, musically, and making a music video soon. So that's going to be fun!
SHOP THIS STORY
---