Sunglasses

Eyeglasses

Sun Clips

Collaborations

Extras

Stories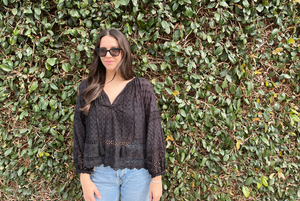 ---
At Home with Linnea Kennison
Get to know the team! In our At Home with Team GLCO series, we take a peek inside the daily routines of our amazing team members—find out what they're up to, how they're staying inspired, and the frames they can't live without.
---
What is your role at GLCO and how long have you been on the team?
I manage Social Media for GLCO – I curate the content that's posted across any/all social channels for the brand. I've been with the team since the summer of 2021.
What's your daily routine?
I'm an early morning person. I check my phone – the news, Twitter, and Instagram. And I make my bed, no exceptions. Then go for a walk. Coffee is a must so I'll make it at home or stop at a local coffee shop, Bluey's in Santa Monica is my favorite.
Weekends are slow and spent at the beach, with friends, and at the Brentwood Farmer's Market.
What are some of your favorite social media accounts to follow?
So – since I spend a majority of my day online, this is incredibly hard to narrow down. I have the benefit of exploring this landscape while I'm working and after hours. With that being said, a few that come to mind are…
It-girl @matildadjerf, Influencers @aimeesong, @marianna_hewitt, @gerihirsch, TikToker @itsmetinx, Gameday fits @leaguefits, Fashion God @nickwooster, Brand @aimeleondore, Actress @lauraharrier, Photographer @davidkitz, Music blog @coffeeandtvsongs and Pop-culturists @notskinnybutnotfat, @garyjanetti. And, my friends & family, of course.
What are you wearing? Favorite frames at the moment?
For GLCO it's the Clare V Nouvelle or Mayan Sun. The Mr. Leight Shi S in White Gold is a recent addition. The technology is insane, they're so lightweight. I love it.
I really want to customize a pair of Naples with a soft pink lens. I don't wear Rx, but I like the idea of having a lighter lens as an accessory to an outfit.
What are you reading/watching?
I read non-fiction or anything by Colleen Hoover – I like a thriller. The last show I binged was Succession. Special shoutouts to two of my favorite food show moguls, Guy Fieri and Action Bronson.
What're you listening to?
Lately, artists who have been on repeat: Bay Ledges, Stevie Nicks, and Jack Harlow. For podcasts, I listen to Second Life by Hillary Kerr and Throwing Fits by James Harris and Lawrence Schlossman. Yin and yang.
What do you do when you need a mood boost?
Pilates or FaceTime my sister to see her dogs – works every time!
What are you most excited for in 2022?
Hands down to see more of the West Coast. I was born in SoCal but grew up on the East Coast, and always knew I'd end up back here. Cheers to traveling, having fun, and doing more of what makes us happy this year.


SHOP THIS STORY
---