Sunglasses

Eyeglasses

Sun Clips

Collaborations

Extras

Stories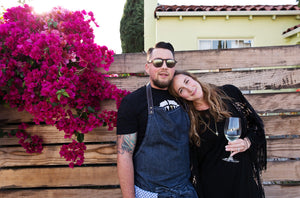 ---
At Home with L&E Oyster
Words: Spencer Bezaire
Photos: Dylan + Jeni
---
Paella is an event perfectly suited for sunny summer days, a group of close friends, and many bottles of wine. This time of year seafood is at its peak and all of its subtle sweet flavors permeate the bomba rice, making for a perfect paella.
I made my first paella in Mallorca. A close friend has a house near Alcudia on the northwest side of the island, across the road from her parent's estate. It was her mother's recipe, a simple version that has its roots in Valencia. Although paella originates in Valencia, Mallorca's abundance of fresh seafood and produce make it an ideal setting for making the dish.

I wanted to capture that little slice of a place that my wife and I hold so dear and to share it with our close friends and family. Paella is the perfect median. There is something communal about building a fire, getting the coals just right, and heating a giant pan with olive oil. There's the buildup on anticipation released with the first sizzle of onions and peppers, or the slight crackle of the bomba rice as it nears its finale. Nothing is hidden behind the closed doors of the kitchen; everyone is involved, and everyone has a job to do.
This evening's paella was very much a California version: squid and octopus from Morro Bay, mussels from Hope Ranch in Santa Barbara, shrimp caught off the coast of Baja, and the closest chorizo I could find to the chorizitos they have in Spain, an El Salvadorian style sourced from Villa Lobos on Santa Monica Boulevard. Big strips of sweet bell pepper and spring onion along with a nice fish stock and a healthy dose of saffron are the fundamentals that hold all these great seafood flavors together.
SBez Paella
Serves 20 people 2 quarts bomba rice 1.5 gallons fish stock (fumet stock works best, halibut bones if available)* 2 healthy pinches of saffron 1 bunch of spring onions roughly chopped 4 large red bell peppers cut into half inch strips 1 pound chorizo links (El Salvadorian style if available) 1 pound mussels 1 pound clams 1 pound squid, cut into rings and tentacles detached 1 pound shrimp, head and shell on 1 each octopus, braised and tenderized** tentacles removed and head cavity cut into strips 1 bunch flat leaf parsley, finely chopped 2 cups extra virgin olive oil 1 cup white wine Salt and pepper to taste You'll need a 22" paella pan and fire pit or BBQ that can accommodate the pan (outdoor propane paella stoves are pretty reasonable as well) *Fumet: 2 pounds of halibut bones, 1 onion quartered, 1 head of garlic cut in half, 2 lemons cut in half, 1 bunch of parsley stems. Halibut bones can easily be obtained from your local fishmonger. Add in all the ingredients and cover with cold water and cook on medium to low heat for 3 hours. Strain through fine strainer. **Octopus: The octopus can be braised in the fumet for added flavor. Just clean can cut the octopus and cook on low heat in the fumet for two hours. Remove and wipe the outer membrane off with a towel.

To start, bring the fish stock to a boil in a large stockpot. Once boiling add in saffron and let steep until ready to use. Assemble all ingredients near where the cooking will happen, and have them ready to jump in the pan. Make sure your grill or fire pit is perfectly level – the paella pan will be extremely full and will not work if the pan is lopsided. Heat the paella pan and add in 1.5 cups of olive oil. Once the oil reaches its smoking point, add in peppers and onions. Cook the peppers until almost burned, which is important for flavor and texture. Add in shrimp and chorizo and brown on all sides. Add in squid and rice. Toast the rice in the pan for 5 minutes, stirring continuously so the rice does not stick to the bottom. Pour in white wine and let cook for another 5 minutes. Add in all but 3 cups of the saffron stock carefully as it will fill to the brim of the pan. This is also where you should add salt and pepper, but note that there will be more salt with clams and mussels so be sure not to overdo it. I recommend 3 tablespoons, but salt is very subjective. Once liquid is in place, add the octopus tentacles and chopped up head cavity. DO NOT STIR THE PAELLA ONCE LIQUID IS ADDED! Let it do its thing. While the paella is cooking, heat a stock pot with half a cup of olive oil and add in the clams and mussels. Pour in the remaining stock and steam open. Steam the shellfish separately because one bad clam or mussel can ruin the whole paella. Once the liquid has dissipated in the paella pan by half, add in the juice from the shellfish pot. Continue to cook on gentle, constant heat until all the liquid is absorbed and there is a slight crackle to the bomba rice as it crisps on bottom. Garnish the pan with shellfish, parsley and lemon wedges. Serve immediately.
Eat up:
L&E Oyster Bar 1637 Silverlake Blvd, Los Angeles 323.660.2255
---