Sunglasses

Eyeglasses

Sun Clips

Collaborations

Extras

Stories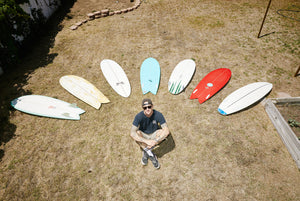 ---
At Home with James Kaiser
Get to know the team! In our At Home with Team GLCO series, we take a peek inside the daily routines of our amazing team members—find out what they're up to, how they're staying inspired, and the frames they can't live without.
Photos: Joshua Spencer
---
What is your role at GLCO and how long have you been on the team?
Venice store manager; I think it's been about 4 years now.
How has the current environment affected the way you work?
It was rough for a little bit. Selling a product that goes on the face is usually easier to shop for in person, or at least I thought. Store foot traffic might have been slow, but business was never bad. Happy to report it's almost back to normal, whatever that means these days.
What do you do when you need a mood boost?
Surfing and shaping of course, but when I'm not doing that, hanging at home with my fiancée and pup.
Have you introduced any new routines or rituals since quarantine that have stuck with you?
None that stuck. I wasn't sure what to do with the free time stuck at home. Most of that time was used to hang out with the family and geek out on shaping, trying to progress as much as I could without any distractions.
What are you wearing? Favorite frames at the moment?
Favorite all time frame is the Wavecrest in black. Something so classic about it.
What are you watching/reading/listening?
I've tuned in to the Olympics here and there and can always lose a couple hours just watching surf videos. Book-wise, I just read Barbarian Days by William Finnegan, more surf stuff. Music-wise, I've just been shuffling all the songs on my phone which ends up being a bit of a rollercoaster of emotions.
Tell us about Kaiser Surfboards
It's really just me making loud noises and a mess of dust in my garage in Torrance.
What inspired you to start shaping?
To be totally honest with you, it came initially out of a purely selfish desire to ride all the boards I couldn't afford or justify buying brand-new, off-the-rack. It's a bit of an intimidating thing to try and start. The biggest push to start came from my fiancée Kaylene. I definitely would not be doing this at all without her. After the first couple I made, I had some really generous friends purchase some boards even though they knew they would fully suck. That support gave me a lot of practice I wouldn't have been able to get just making boards for myself.
What part of board building do you enjoy the most?
Someone reporting back to me that the board I made them goes great and was exactly what they wanted. No better validation than that in this craft.
Do you have a favorite shaper you're inspired by?
Not an easy answer. There are far too many shapers who inspire me. Basically anyone who's picked up a planer.
When did you start surfing?
First time ever on a surfboard was when I was eight years old, but I really started going consistently when I was 12.
What is your local break?
Somewhere between Palos Verdes and El Segundo. Wherever the least amount of people are on any given day.
What are you currently riding?
5'7" round tail twin with some channels on it or my 6'2" twin pin tail. Sometimes I'll bring them both down.
Who is your favorite surfer?
There are so many different styles out there it's hard to narrow it down. Since I was a kid it's been Taj Burrow, but it's hard not to get fired up after watching clips of Mason Ho or Josh Kerr.
Any surf trips in the coming months?
I wish! Might have to go south soon to get on some of this south swell before summer's over.
Photo: Surfer, Mason Ho
---