Sunglasses

Eyeglasses

Sun Clips

Collaborations

Extras

Stories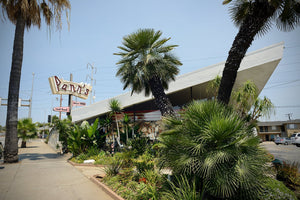 ---
Architouring LA
Daytrippers /December
Words: Jonathan Velardi
Collaborator Photos: Dan Chavkin
---
Architouring L.A.

One of the most intriguing tours of Los Angeles actually begins before your feet touch the ground. On final approach into LAX, from the starboard side of the aircraft you'll notice a giant ring sandwiched in between a busy intersection off the 405. On the port side you'll catch sight of the top of what looks like a flying saucer, hovering amongst the terminals. One structure is made of gunite, the concrete pumped into pools; the other is a more streamlined stucco-covered design. Built only eight years apart, the two architectural curiosities couldn't be more different in form and material. Nor should we rule out whether they came from different planets.


So what does the supersized donut at Randy's Donuts and the Theme Building at LAX have in common? They make up Los Angeles' weird and whimsical architectural landscape, unofficially causing road accidents since the mid-twentieth century with traffic-stopping structures vying for our attention. Today, they are surrounded by concrete oceans of parking lots or isolated at gridlocked junctions; huddled on a sleepy neighborhood or in the shadows of a new high-rise – a motley crew that is best described, yet unexplainable at the same time, as LA's vernacular architecture. As diverse as the residents on the streets that they occupy, they are landmarks conjured from an ideology that continues to be synonymous with this city: loud, shameless, unadulterated fantasy.




Sure, we also have the Lloyd Wrights and the sexy Case Studies and enough chic mid-century moderns to inspire knockoffs for at least another generation. But the fantasy I'm talking about is imposing, scary — sometimes ugly — and outright bonkers. It's about a city that makes nonsense out of history and breaks all the rules; a city that wasn't satisfied with just one supersized donut, so it built a second. The Donut Hole in La Puente has been serving the unique and cheeky experience of driving through the center of ginormous donuts since 1968. So now that we're in the same headspace the rest will make sense. As early as the late 20s entire styles of architecture were being defined by vehicles: the mimetic and programmatic, the Atomic and Revival, the Dingbat and Googie. Look at those polarizing Dingbats for example — their selling point for all to see — where you can park your shiny new car under your living room. That's Angeleno synergy.




The idea of architectural advertising wasn't exclusive to sites of cultural interest — like the heavily ornate façade of the Mayan Theater — but also extended to the mundane services of the everyday: coffee shops, diners, gas stations and motels. It's an artistic freedom so democratic and arbitrary you could be having pancakes in a chrome-clad future at Bob's Big Boy, Norm's or Pann's diners, then fill your car up under the galactic sloop roof at Jack Colker's 76 Station, before traveling back in time to a tipi village at the Wigwam Motel in San Bernadino, all in the same day.




When you're travelling around LA, complete neighborhoods appear to be designed as drive-thru landscapes. Horizons undulate, glide and shapeshift depending on which direction you're driving only to make you look twice on your way back: architecture at its most potent. If you thought you saw the grill of a Cadillac across the entire width of a building while cruising Ventura Boulevard, you did. And yes, the moon has landed on Sunset Boulevard too. LA's vernaculars are physical, monumental pins on our maps way before we relied on our review apps to tell us where to go and what to look out for. So are these relics relegated to a few seconds of flirtation when the traffic light turns red? A new wave of attention-seeking architecture is finding its place within the landscape by using an age-old formula. United Oil's sleek commission for a new filling station is refueling the passion between a driver and the open road. With a little help from architecture, a love like that never fades.


---