Sunglasses

Eyeglasses

Sun Clips

Collaborations

Extras

Stories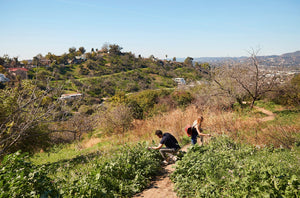 ---
---
Sometimes an idea comes first, but the medium comes later. That was the case with Ari Taymor and Ashleigh Parsons, the founders of Alma, a restaurant concept and non-profit in Los Angeles. Since starting as a pop-up in 2012, Alma has been named America's Best New Restaurant by Bon Appétit and Taymor named Best New Chef by Food & Wine. He was also nominated as a Rising Star Chef by the James Beard Foundation awards for two years in a row. But back in 2008 when the two first met, they were just figuring themselves out. They knew they loved food and had a lot of opinions about how and why it should be made, but Alma, with its emphasis on celebrating Southern California produce as haute cuisine and community-minded philanthropy, didn't come until later. I sat down with the two to figure out how it all comes together so well: the non-profit, the incredible food, the focus on mindfulness, and the love of locality.
How and when did you meet and start working together? Ashleigh: We met in San Francisco in a yoga studio in 2008. Gosh how old were we? 22? We were just figuring ourselves out; we both had an interest in cooking and where education and food merge. Do you have a guiding principle or ethos behind your approach to food? Ari: Expressing a sense of place—using the products and trying to create food that is very much about and inspired by Southern California. We try to push the ethics not just in terms of the food, but also how we treat the staff, including creative ways to compensate the team. We didn't want it feel like just another restaurant.
The constant for the menu: Ari's dedication to sourcing & sustainability.
You moved from an à la carte to prix fixe menu at your Broadway location, but now at the Standard, you're back to à la carte. How do you feel your food—and your approach—has evolved over the past four years of Alma's existence? Ari: It's just a progression of what we started downtown—it's the next evolution. We're more sophisticated as business owners and we've had our team with us for a while now, so the changes aren't as big as when we first opened the restaurant. We're able to just constantly refine and get better at what we do. Ash: The constant for the menu is really Ari's dedication to sourcing and sustainability. The changes from the different menus have been a really natural evolution from not sure exactly what having a restaurant really meant to us, and then now being better able to articulate what that experience should be.
What's new specifically at your Standard Pop-Up? Ari: A lot of the reaction we've been getting is that it's just better, more fully realized. For us, when you start a project and you let it evolve, you watch it and you watch your own growth. We pay a lot of attention and we constantly ask ourselves what we want to do, so the change just sort of happens naturally. Any ideas what's next when your pop-up ends after Memorial Day? Ari: We're still just trying to focus on making this really great right now. We're always asking ourselves internally what we want to do, what's an interesting long-term trajectory, but at this point it's really more like we're happy to have a home. We've only really been here for a bit over two months, so we're just getting our feet under us here. Tell me a little bit about Alma Community Outreach: when, how and why it came about. Ashleigh: It's been a total labor of love. We depend on a small community of volunteers—some artists and photographers and different friends who are interesting in helping. We are currently in three schools in Rampart, right by Echo Park. It's the most densely populated neighborhood in Los Angeles, actually. We teach cooking classes with an eye towards wellness and mindfulness. Even though it's been in the works for three years, it's really just now starting to get its roots settled and growing.

Can you walk me through the program itself? Ashleigh: In two of our three schools, we have edible gardens with hydroponic towers and raised beds. We start in the garden with some sort of mindfulness exercise, noticing what's growing really well and what's ready to be harvested. We'll go ahead and harvest those ingredients and cook. These are always simple ingredients that are readily available – we want it to be easily replicated at home. Importing a mindfulness practice in gardening and cooking seems pretty unique. Ashleigh: Yeah, I don't know if anyone else is doing that kind of practice. It's definitely pretty natural for us. We did a mindfulness exercise this week with a third grade class, followed by a cooking lesson and, I don't know, it just sort of made sense to do a quiet cooking class. Right now it's very much focused on cooking and gardening, but because of our base in mindfulness, it makes sense to eventually evolve into music, art, sounds. Finally, let's talk about the adorable black Lab that came along! Ari: That's Sage, who Ashleigh and I share. She's the restaurant dog; she was always downtown with us and now she always comes to the Standard. She's our mascot. So what's her favorite dish, the frozen fois gras? Ari: Actually, she loves carrots.
Alma at The Standard, Hollywood
8300 Sunset Blvd, West Hollywood, CA 90069 through Memorial Day of 2016 @AlmaRestaurant / @AriTaymor / @AshleighJParsons
---