Sunglasses

Eyeglasses

Sun Clips

Collaborations

Extras

Stories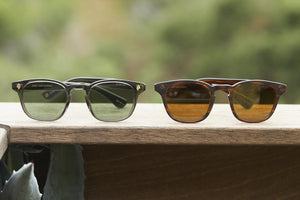 ---
Ace
Inspired by shot calling dudes of yore, our newest frame is bold, classic and confident.
---
By Elena Doukas
All our frames for Holiday 2020 came from this inspiration around coming across a classic, Arthur Waite Tarot deck. (Hanging out in Venice, the mystic folks get you eventually…) We loved the colors and the idea of coming up with these archetypes for who might be wearing the frames we were sketching out.
The Ace is the resident cool guy frame - think young Depp, or old black and whites of Dylan or Dean. It's got bold, surfy lines, in a classic Wayfarer-inspired design with a keyhole bridge and a larger men's fit that falls somewhere between Brooks and Calabar. It's also got a new, palm leaf-inspired plaque that gives it some punch. 
For our limited-edition collaboration with Brazilian lifestyle brand FRESCOBOL CARIOCA, we put a spin on our iconic Ace sunglasses, pairing them with custom colored lenses in an array of warm weather-ready color combinations reflecting the vibrant, energetic vibes of Rio de Janeiro.
This is the frame for guys living their best life. They're always dialed in, always have the VIP hookup, or the right person to call to make it happen. They've been running on their charisma since before they can remember - and it's gotten them far. No one cares more about the quality of their circle, no one takes better care of the people that take care of them. Maybe they were a bit of a wild child in their salad days, but they don't break rules anymore, they just redefine them. Ace is the highest card in any suit for a reason: it's the most potent.
---