Sunglasses

Eyeglasses

Sun Clips

Collaborations

Extras

Stories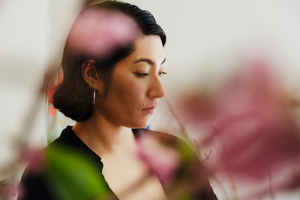 ---
A Rare Flower
Words by Anna Zanes
Photography by Julius Frazer
---
Naoko Oliveira is a rare flower herself. It's not every day in New York City you meet someone who has successfully built a small business on pure passion for their craft — and since 2020, Oliveira has proven she can do this gracefully with her floral company Kabuki NY, located within Canal Street Market. Years before, Oliveira had been a barista at the market's coffee shop, alongside an array of art, fashion, food, and other retail vendors — including a florist. During that time, she discovered her deep love of flowers and making arrangements, and saw an intersection between that craft and her interest in Japanese culture and art, a vision which ultimately led to the birth of Kabuki NY. Starting with an early morning trek through the flower markets, Naoko took me through her day, and on the way, took me through the story of Kabuki NY.
Anna Zanes: What are your earliest memories around plants and flora?
Naoko Oliveira: My grandfather loved flowers. His name was Harutarou — Haru being the Japanese word for spring. My grandmother didn't care much for flowers but always kept flowers in the house for him; fresh flowers, flower print curtains, towels, embroidery, floral calendars, etc. She planted fruits and flowers and vegetables in the garden. And I think it's because of my grandfather's love for flowers and my grandmother's gardening that my mother always kept flowers and plants in the house. She would always hang bouquets upside down on the kitchen wall to preserve them, and kept an aloe plant that had been there since before I was born, which she clipped to use for home remedies.
Flowers were always a part of my life, I'm even named after one.
AZ: Tell me about how Kabuki came to be!
NO: At the start of the pandemic I found myself — like many others — without a job, and without any idea what I was going to do or what was going to happen. So I started playing with the idea of what it would be like to run a studio of my dream designs, even coming up with logo ideas and branding ideas to keep my mind occupied. One day Phil Chong, owner of Canal Street Market, inquired about some flowers for Mother's Day, and when I informed him about my situation he generously offered a space to make what I had been daydreaming about come true.
AZ: What has your experience been like being a woman of color, building a small business in New York?
NO: It's definitely been an interesting one. I am very grateful to be able to work and operate alongside other creative women and people of color who want to lift up and support each other. I think one good thing that the pandemic brought us is the chance to reconnect with ourselves and each other on a deeper level and remind us to keep in mind what is really important — and that's love, family and community, however those things are present to us. Being a woman of color has put up against many challenges, limitations, stereotypes and dangers, but in our experience and struggle there is strength, resilience, cultural richness and openness that grants me the ability to connect with others. I would be lying if I said it hasn't been difficult at times, so I am so grateful to have a community of such wonderful people.
AZ: How does this location, and/or Chinatown culture influence your life, and business? As someone who grew up in New York, what's been your experience here?
NO: I grew up coming down to Chinatown with my mother to get Asian produce and items that aren't available at regular grocery stores. I always looked forward to those days because it meant we got to eat dim sum. I still do much of my grocery shopping at the Mulberry produce stands, and eat at my favorite restaurants and bakeries that I have been going to since I was a kid. It's really cool to see how the traditional side of Chinatown coexists with the present creative community of art, food, fashion etc. We're all here because we love it here.
AZ: If you had to tell someone what you're trying to do with Kabuki, or even with each floral arrangement, in a sentence, what would it be?
NO: Have you ever listened to a song, looked at a piece of art, watched a film, that made you feel something? Made you feel many things? Made you go "Damn this is fucking amazing"? Flowers are literally nature's masterpieces! And they're sexy as fuck, and I want everyone to know.
AZ: What're your favorite places to eat, drink, shop, experience art in New York?
NO: Eat: Bacaro, Cervo's, Smør, Wu's Wonton King, Katsuei is my favorite Omakase.
Drink: Mr. Fongs, The Ten Bells, Decibel, Dr. Clark.
Shop: Most of the time I'm too busy to shop in person, so I tend to shop vintage online—I almost only shop secondhand— but I do shop the vintage pop ups at Canal Street Market, Stella Dallas in Williamsburg, Army & Navy Bags, Housing works, and I know James Veloria will always have an amazing selection.
Art: Karma, Lyles & King, Rachel Uffner, Half Gallery, White Columns.
SHOP THIS STORY
---