Sunglasses

Eyeglasses

Sun Clips

Collaborations

Extras

Stories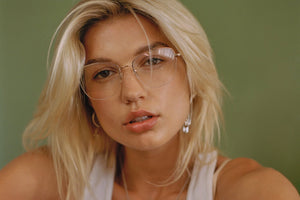 ---
A Guide to Rimless
Style Guides /May 16
Words: Ryan Ford
---

If you're reading this, it means you have the blessing of being alive in a time of marvelous technological advancements. You could be reading this on your phone which, let's be honest, is more advanced than the desktop computers we grew up with. I remember green screened all-in-one Apples with an actual floppy disk, 6 inches across. If you do too, you're awesome. There are cars running on batteries, you can be anywhere in the world in half a day's time, and you can order just about anything on the Internet and have it arrive at your house in two days time. Now I know what you're thinking: What the hell does this have to do with eyewear? The point is we got fashion these days, honey. And our bespectacled brethren of yesteryear were not nearly as fortunate.


The first pair of corrective lenses were invented somewhere between 1268 and 1300. For centuries eyewear was simply considered a medical apparatus and designed as such; devoid of thoughtful design or fashion, they were akin to crutches or wheelchairs. Fast forward to the late 1800s and early 1900s, when eyewear was beginning to be made of actual tortoise shell and other materials. Almost all frames were some variant of a circle and predominantly made of metal. During World War I, the first rimless styles begin to appear when jewelers who could no longer sell their wares in a wartime economy began creating eyewear to stay afloat. This is where we began to see first beautiful pieces defined by craftsmanship. There were 3 piece and semi-rimless styles with meticulously engraved filigree and masterful details, now commonly referred to as "gold filled" eyewear. The style stuck, and a construction style born of necessity became a mainstay. Many point to icons such as John Lennon for popularizing the rimless style in mid-century American and European fashions, as well as contemporary standout Steve Jobs. What was once a fashion choice that pointed to a career in architecture and a matching Saab has found itself once again having a moment.




With a resurgence in 90s fashion and the advent of new lens and frame technology, that which was once considered stuffy in eyewear is now edgy. We've all seen the gigantic colorful lenses that seem to be suspended by magic above pouty lips and covering laser manicured brows across social media. For those looking for that refinement and tasteful reimagining of those gorgeous turn of the century looks, consider the following: Beaumont: The union of semi-rimless frame construction and drill mounted lenses provides a silhouette enlivened with thoughtful details. Hexagonal head screws shine like jewels against pop colors and bright metallic finishes, with a generous 53 eye size providing a true unisex fit. Pershing: A stand out and personal favorite of the SS18 collection, the Pershing oozes elegance. The oversized butterfly shape provides flirty femininity and a groove mounted lens design offers refinement without the stuffiness. Manchester: Brother to Beaumont, this smaller eyesize, true round groove mount is ripe for customization. With the addition of complementary acetate temples, you can go for the upscale optical or make a splash with custom sun lenses.


---