Sunglasses

Eyeglasses

Sun Clips

Collaborations

Extras

Stories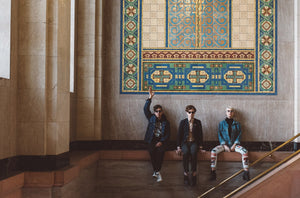 ---
5 Every Day
Photos: Cara Robbins
Words: Colin Stutz
---
It's a common conversation around Los Angeles these days (and surely abroad) that the city is going through a cultural renaissance. But for a city and its surrounding areas separated by upwards of a hundred different neighborhoods split by freeways and interstates, actually finding some of that vibrant culture can still seem like an arduous task. Enter the indie pop band YACHT and its local happenings app and members club, 5 Every Day, a new essential for Los Angelenos and visitors alike to discover interesting things around town every day of the week. For the past three years Claire Evans and Jona Bechtolt, along with friend and writer Zac Pennington, have been exploring the local scene for the offbeat and exciting, posting five new things to do in Los Angeles every day — one in each of their art, city, food, music and wildcard categories. We spoke with Evans about creating 5 Every Day, how and why they keep it up, and what it means for our morphing metropolis.
How did you go from being in a band to starting a local events app? Does one inform the other or do they feel completely separate? YACHT is a band — that's what we're known for. But we see being a public entity as an opportunity to create experiences on many different scales, in many different mediums, for many different people. So we don't just make music, we make things. We've made a neon sign, which we sell as an art object; a perfume, which we designed to extend the reach of our music into the senses; a line of sunglasses; a laptop sleeve; a book; and of course, 5 Every Day. It's all part of the same tendency: we take on projects because we want them to exist, and because we want to learn how things are made. When we moved back to Los Angeles five years ago, we desperately wished that we had a singular, cool, reliable resource to boost the signals, pointing us where to go, where to eat, and telling us which parties were worth rsvping for — a friend whose brains we could pick every single day. Once we settled in, we realized we could create something that could serve as that friend, support artists and small business, and keep us exploring all at once.
You're helping people discover new places and things to do around L.A., but surely you're discovering those yourself along the way too. What have been some of your favorite finds? We're always amazed by how much flies under the radar in Los Angeles. Underground culture notwithstanding — of course there's always emerging spaces, clubs, and galleries — the city itself offers so much that is totally underexploited. Like did you know City Hall has an amazing 28th-story observation deck? You can go up there anytime, for free, and see the city in 360 degrees. Did you know there's a "swimming lake" in the Valley the size of a football field that costs $3 and has two waterslides? Did you know you can ride tiny steam trains in Griffith Park? It just never quits.
How do you find each day's selections? 5 Every Day has always been a place for us to champion the stuff our extended creative community is up to. When we launched, we created an informal network of friends, galleries, shops, artists, musicians, promoters, and straight-up LA enthusiasts, all of whom keep us in the loop. But a lot of our listings are the result of old-school pavement pounding: we love to explore the city. We take long walks, we drive entire boulevards, always with our eyes open. If a place looks interesting, we pop in and talk to people. We see 5 Every Day as an excuse and an opportunity to ask questions.
What have been some of the biggest problems you've encountered building this app? You'd think finding five new things to post about every day would be a problem — it's not. There is never a shortage of new places and events to feature. This town is straight up limitless. The biggest issue is sustainability. We never want to serve advertisements, and we never want to promote things we don't wholeheartedly love. We do everything for free. Finding ways to keep 5 Every Day functional without sacrificing its integrity is the most difficult problem we face. It's why we launched our loyalty program Club 5, where – shameless plug – you can buy a cute lapel pin from us to unlock deals from awesome partners all over town (all our favorite places, basically).
A lot of our listings are the result of old-school pavement pounding:
we love to explore the city.
You've started hosting some of your own events now as well as your own segment on the local NPR station, where do you see all this going? We just want to be part of Los Angeles. We love it here, and if we have an opportunity to get others excited and engaged in this city, we take it. We really like getting to inject places with new energy, or giving people an excuse to check out something they might have previously ignored or driven by. That's why we throw parties in unusual places, like the La Brea Tar Pits, the Getty, or the Triforium.
There's a lot of talk about L.A. having its moment – what do you see going on in this city and does it feel like it's something that's actually happening right now or rather just that people are starting to pay attention? I think people are beginning to understand that the idea of this city as some green-lawn, swimming-pool, single-family home suburban sprawl is an unsustainable fiction. This is an exciting moment to be in Los Angeles, because we are questioning what it means to be Angelenos. Maybe we don't have to be a car city. Maybe we can build out our Metro system, bring the LA River back, live downtown — maybe we can bike and walk in our neighborhoods. It feels like we're on the edge of a total reimagination of our city. What are the best and worst things about living in Los Angeles? I'd say the best is constantly being surprised by restaurants in strip malls. The worst: constantly dealing with people's misconceptions about LA.
GET OUT THERE!
---