Sunglasses

Eyeglasses

Sun Clips

Collaborations

Extras

Stories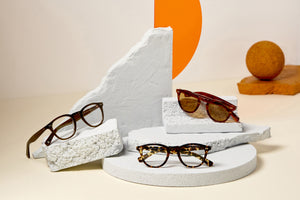 ---
2020 Ten Year Anniversary Collection
A Style Guide to our 2020 Collection.
---
It's been a decade since we launched our first collection, and to celebrate, we're looking back at our Venice origins. From the beginning, it's been all about the frames and the people. Garrett Leight California Optical is an authentic representation of the one-of-a-kind individuals in our community — what they wear, what they read, what they create, and what inspires them. For our ten-year anniversary we pay tribute to our beginnings and the classic styles that have since become mainstays of our brand. Our iconic silhouettes are reimagined in modern tones, and our most celebrated styles, Hampton and Brooks, each get a new anniversary-edition as Hampton X and Brooks X. Our 2020 campaign features our very own team members, as well as close friends of the brand who have been with us from the beginning. The collection itself emphasizes our founding ethos of timeless design and expert craftsmanship–punctuated with a distinctive California aesthetic.
The Optical Styles
Hampton: The very first frame we ever designed, Hampton continues to be as relevant today as it was when it debuted 10 years ago. This season, the classic P3 style gets a modern update with contemporary acetates in refreshing hues.
Kinney: One of our perennial fan-favorites, Kinney boasts a simple yet classic silhouette that's designed to suit everyone, featuring a semi-square shape with balanced proportions and a keyhole bridge. This season, the popular style adds new versatile tones perfect for everyday wear.
Brooks: Dubbed the 'boyfriend jeans' of glasses, this vintage-inspired frame has a classic square-shaped silhouette with a defined keyhole bridge that looks good on anyone. This season, Brooks adds two new colorways in cool and versatile tones.
Clark: A back-to-basics frame with a classic square-shaped silhouette and modern acetate tones.
Hampton X: For our ten-year anniversary, we put a modern twist on our first-ever frame, Hampton, with a thicker acetate construction and a special plaque inspired by the GLCO logo—it's a bold, statement-making silhouette.
Glencoe: A new optical style we introduced this spring, Glencoe befits the unassuming, but incredibly stylish, denizens of its namesake neighborhood. Rounded with a defined keyhole bridge and slim temples, the beauty is in the details.
Marian: A slightly oversized frame with a feminine, round silhouette, the Marian is adorned minimally with GLCO's signature rivets and temple.
Howland: A classic rectangular frame with balanced proportions and thicker temples, our popular Howland eyeglasses get a color refresh this season in a neutral yet striking color palette.
Naples: Another new style this year, Naples infuses modern design with vintage sensibility with its bold silhouette and rich materials. Palm leaf plaques embellish the exaggerated endpieces for a look that's equal parts minimal and striking.
The Sunglass Styles
Hampton Sun: From our original collection 10 years ago, Hampton Sun continues to be one of our best-selling styles for both men and women, striking the perfect balance of casual and refined. The iconic frame sports a retro-inspired P3 silhouette, and gets an update this season in contemporary color combinations for a fresh, modern feel.
Kinney Sun: Kinney Sun is an enduring style with a defined keyhole bridge and soft curves that lend wearability to its square-shaped silhouette. This season, these best selling sunglasses add even more winning color combinations to its range.
Hampton X Sun: Our anniversary edition of Hampton also comes as a sunglass. Sporting a thicker acetate construction, glass lenses, and a special plaque inspired by the GLCO logo, it's a statement sunglass that works for everyday.
Brooks X Sun: One of our best-selling designs from our first-ever collection, the Brooks is back with a revamped ten-year anniversary edition. Redesigned with a thicker acetate construction and a new plaque inspired by the GLCO logo, its classic facade is infused with a hint of bookish charm.
Calabar Sun: A Hollywood favorite, Calabar features a bold wayfarer-inspired silhouette with a temple design inspired by 50s car fin. This season, the sold out style returns in new and best-selling colorways.
GLCO x Clare V. Sun: A limited-edition collab frame we developed with LA accessories designer Clare Vivier, the GLCO x Clare V. Sun has become our most popular cat eye style. This year, the best-selling style gets a color refresh in modern hues.
GLCO x Clare V. Nouvelle Sun: A new addition to our collaboration with Clare V., this bold, squared-off cat eye captures modern femininity at its core. The perfect balance of hard and soft, with rich hues to match, the strong silhouette of these acetate frames speaks volumes.
Robson Sun: Our longstanding optical favorite is now available as a sunglass. This iconic P3 shape, modified with a distinctive angled top rim, features thin metal construction for a featherweight silhouette.
Marian Sun: Subtle, playful details make the Marian a wardrobe standout. This new round sunglass style features an oversize silhouette and gradient lenses that add a touch of feminine allure.
Clune Sun: Inspired by mid-century design, Clune Sun is our modern take on the classic P3 silhouette, with a distinctive round shape and lightweight acetate construction. This season, the popular sunglasses add new colorways to its range for a pop of color.
Clark Sun: A favorite optical design, Clark is now available in sunglass form. Balanced proportions, keyhole bridge, and slim temples—it's back to basics at its finest.