Sunglasses

Eyeglasses

Sun Clips

Collaborations

Extras

Stories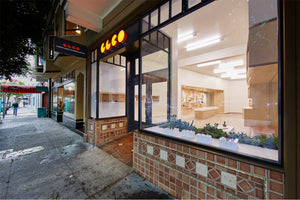 ---
You're Invited: Hayes Anniversary
---
Time sure flies when you're having fun. It seems like it was just yesterday that we joyously opened the doors of our second retail location in San Francisco. But a year has come and gone - so we're throwing another bash in Hayes Valley to celebrate. Last year's event was a smash hit and thus we've decided to up the ante.
Join us the night of Friday, September 2nd from 7-10pm. We'll have wine, beer and music from Matt and Spencer of the Allah-Las. But wait – it gets even better: El Tonayense will be parked out in front of the shop shellin' out tacos to all our guests.
The party continues on Saturday, September 3rd. Grab an issue of Spectacle 8 and receive a free treat from Rocko's Ice Cream Tacos, who'll be there from 1-7pm.
Full recap below. Wishing you a very happy Labor Day from GLCO and we hope that you join us for our birthday weekend at Hayes.

Address:
GLCO Hayes Valley at 393 Hayes St, San Francisco, CA 94102

Drinks:
Scribe Winery
Food:
Friday: El Tonayense Tacos
Saturday: Rocko's Ice Cream Tacos
---