Sunglasses

Eyeglasses

Sun Clips

Collaborations

Extras

Stories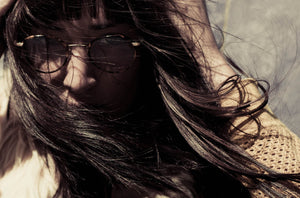 ---
London
Features /October 29, 2014
Photos: Roberta Schmidt
Featuring: Ahida Agirre, Kasra V, Mike Button, James, Celine Kreis, Harley David, Griffin James
---
A PHOTOGRAPHIC STUDY OF LONDONERS
Ahida Agirre, Fashion & Accessories Designer
I moved to London last October, after living in Barcelona for 7 years. London is amazing, I meet lovely and creative people every week, I love discovering galleries, shops and cafes around the East. I am fascinated by the creative vibe of this city. Everyone here expresses themselves with their clothes, more than anywhere I have ever been. Every aesthetic is accepted here and that keeps me alive. Let's say that's what makes me stay here, it makes balance with rain and cold.
Kasra V, DJ & Radio Presenter
I moved here when I was a kid both in age and ways of thinking. I can easily say London shaped me to be who I am today. I truly believe you can be whoever you want to be in London and pursue whatever it is you are into. You will find loads of people who are into the same thing as you. Sometimes I get really tired of it, but when I step back and take another look, I don't think anywhere else can top London.
Mike Button, Fine Art Painter & Model Maker
London is so very different from the days of my childhood when, with my parents I hid in the shelter or, if time was short, under the kitchen table, until the 'all clear' sounded, and afterwards, staring down into the craters. Destruction everywhere! Everything seemed grey then. It was a grey city. But it is colourful now, vibrant, crowded, bustling. I remember the choking smog and that awful greyness. It's good to be alive.
James, Father & Musician
London is everything for me, London is my fam and my identity. Being a young father you'd think it's too much, but I love the hustle - it keeps me vibrant.
Celine Kreis, Designer & Student
I moved to London to study womenswear at the University of the Arts (LCF). For me, London is the best place for young designers as there is a huge support network constantly searching for new talent. People push creativity here and the city itself is full of inspiration. There is so much to do here, so many different people from all walks of life and so many different areas to explore. The history of the city holds so much and the historical architecture is something that still mesmerises me. I love London and I see myself here for a long time. I look forward to starting my final year in September and doing my first collection with my partner Suman Gurung. It will be the first of many collections for our label.
Harley David, Model, Agent & Booker
London challenges you to keep up, and I enjoy the chase. It keeps me on my toes and I feel like I'm gaining ground constantly. There's a certain type of person that London calls, but if you're not quick enough it will leave you behind.
Griffin James AKA Francis Inferno, Orchestra, DJ/Producer
My life and work mostly revolve around a sleeping program that is opposite to most. Where I'm from this might be condemned, but in London I am not alone. There is always somebody exercising their creativity at any hour of the night or day.
---