Sunglasses

Eyeglasses

Sun Clips

Collaborations

Extras

Stories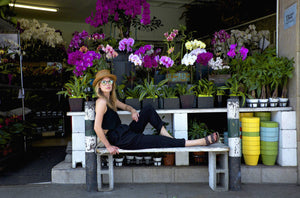 ---
LA Flower Market
Photos: Helen Nishi
Model: Ceara
Writer: Emily Draznik
---
California weather is perfect for many things: year round access to restaurant patios, trips to the beach on Christmas, blooming flowers all day, every day. In this land of the eternal summer, there is a thriving plant culture unique to Los Angeles. You can pick up a bouquet from a roadside vendor or pluck some from your home garden. But truthfully if you're looking for the widest selection of fragrant, mind-numbingly beautiful blooms in the city, the LA Flower Market is the place to be. Whether you're a bride-to-be or wholesale floral account this place has something for everyone. Strangely enough you can find this institution within the concrete jungle of Downtown Los Angeles.

The LA Flower Market was created in 1921 by 30 enterprising growers, with many of these initial vendors among the pioneers of the LA floriculture industry. It is located in the direct center of the Los Angeles Flower District, the largest and most successful wholesale flower district in the United States. Many of the growers in the market are second and third generation florists. Come to think of it, the LA Flower Market may have sparked the "buy local" trend way before it was popular to do so. Under its roof this establishment houses more locally grown flowers than any other single source. And the 50,000 square foot building is now solar powered, proving that long-standing family businesses can keep up with the times.

If you weren't blessed with a green thumb, the LA Flower Market makes for an affordable way to keep fresh flowers in your life. The market has been open to the public since the mid-90s, so be sure drop by Monday–Saturday to catch a glimpse of some of the freshly grown flowers that make LA a little brighter. Maybe find a wedding to invite yourself to or invent a holiday that you have to decorate for. It's also a great place to take your mom when she comes to visit. Whatever the excuse, you should find the time to explore its hallowed halls. Even in its truest nature, it's like a perennial flower: here to stay, never going out of season.
---