Sunglasses

Eyeglasses

Sun Clips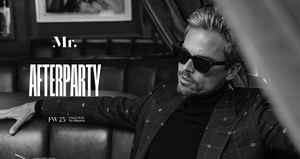 After the show it's the after party.

This campaign draws inspiration from the pre-digital era of paparazzi photography of beautiful people at after parties and hotel lobbies. You can hear the flashes popping and it feels a little voyeuristic.

The flashes illuminate details of the collection, geometric motifs, intricate filigrees with a tribal code that speak to Larry's current island home far from his previous Hollywood life. The island inspiration blends seamlessly into this glamorous scene. It's still Aloha, just after dark.

Welcome to the Afterparty, Mr. Leight Fall Winter 2023.