Sunglasses

Eyeglasses

Sun Clips

Collaborations

Extras

Stories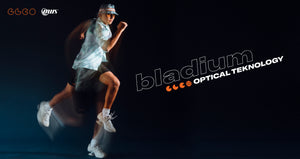 GLCO x Metalwood
Our lawyers wanted us to let you know that we can't promise that any of the gear in our long awaited GLCO x Metalwood collection will make you a better golfer. Our stylists wanted to add that these "gas station-esque" frames and big look prints might not be for everyone.

So, who does that leave? Stylish people like you who share a love for the zany slash unintentionally awesome vibes of late '90s golf gear, who are not afraid to sing the praises of "blades" (that's golf clubs to all of you non-putters out there) in the company of anyone under the age of 65.

Consisting of a bold, cylindrical one-piece wrap-around nylon frame that comes in two colorways, as well as a powerful lightweight camp collar shirt and matching shorts, a twill bucket hat, a cotton canvas barrel driver cover and a cotton printed towel, this is top gear for folks who don't take their game, or their lives, too too seriously.