Sunglasses

Eyeglasses

Sun Clips

Collaborations

Extras

Stories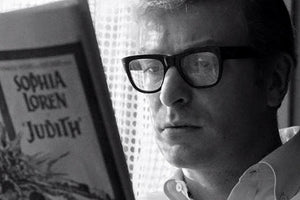 ---
Michael Caine
The English film legend with a career spanning over 60 years who made glasses and his working-class cockney accent not only cool but desirable.
---
Michael Caine's impact on popular culture cannot be disputed and would be very hard to overestimate. Caine has appeared in over 170 films in his nearly 7 decade career, and has been nominated for Oscars in 5 separate decades – a feat accomplished by only three other actors. You may have heard of them: Paul Newman, Jack Nicholson and Laurence Olivier. He made his cockney accent not only acceptable, but desirable. His comedic timing was only rivaled by his personal style. He made wearing glasses look really, really fucking cool.
Starting with The Ipcress File in 1965, Caine's optical choices (often fashioned by Oliver Goldsmith) tended toward chunky acetate in ever increasingly intricate designs. Along with his acting chops, his sartorial choices on screen in A Funeral in Berlin, or Get Carter, or The Italian Job, brought a rough and tumble romance to the classic British Spy and Gangster archetypes. The entire genre of British caper films would be materially different, and a hell of a lot less fun, if Michael Caine had never emerged from the prefab housing units of Elephant & Castle neighborhood of South London. As he progressed through the 60's and 70's it is plain to see Caine influenced a generation of Actors and fashion designers.
As his career was reinvigorated this century with his performance as Alfred in Christopher Nolan's Dark Knight Trilogy, his glasses got more reserved. He's 87 and is entitled to do what he wants (he's been doing that for multiple decades), but his formative years have left us with some indelible eyewear looks that are influential to this day.
---