Sunglasses

Eyeglasses

Sun Clips

Collaborations

Extras

Stories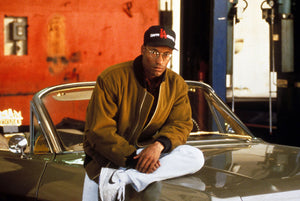 ---
John Singleton
The stylish LA-born filmmaker brought the experience of growing up Black in America to the world.
---
When Boyz N the Hood hit theaters in 1991, and went stratospheric, 23-year-old LA native John Singleton was catapulted onto the scene. He was nominated for the Oscar for Best Director - he's the youngest ever to snag that honor — and made waves immediately for his leading man looks and enviable style: rocking everything from cheetah printed silks and berets to moto jackets and African beads. And always with an ever-present pair of brainy, round frames that became his signature.
But Singleton stood out in another way as an award-winning director: He was Black. Which meant Singleton had done what Spike Lee, the Hudlin Brothers and other talented directors hadn't been able to do before him—bring the honest experience of growing up Black in America to the big screen in such a way that critics and Hollywood higher-ups had to acknowledge its impact. Singleton spent the rest of his career speaking out against the prejudice in his hometown business. His persistent battle cry that studios weren't "letting black people tell their stories," seems especially timely now, in the wake of recent protests and just a year after his death.
Singleton's movies were beautiful, soulful, and unapologetically hip-hop. He worked with and made movie stars of some of the biggest artists of his day — Ice Cube, Tupac Shakur, Tyrese Gibson —and prided himself on every fit, every detail being authentic to the streets. The same snap backs, oversized crewneck sweats and washed-down, high waisted denim you see on every fashion kid today owe a nod to Singleton. Along with baseball jerseys, Z Cavaricci kits, and Chucks, the clothes of his movies are the very fabric of the 90s. "There's a whole culture and politics that go with the music," Singleton said. "I come from the same place as rappers. I see myself as the first filmmaker from the hip-hop generation."
---