Sunglasses

Eyeglasses

Sun Clips

Collaborations

Extras

Stories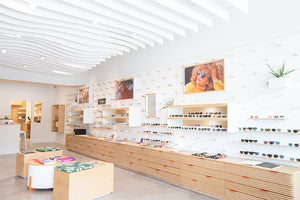 ---
GLCO Staff Picks
See what our retail team is loving this fall season.
---
We're playing favorites. From LA to NY, we hit up each of our retail locations to find out what our team members around the country are loving for fall.
Bryan, GLCO Austin, TX
"The Grant is all about the details. It's the semi flat lenses, the hinge details, and Demi Blonde Tortoise that add up to make for a new feel on a classic look."
Maddi, GLCO Austin, TX
"The Troubadour in Olio is by far my favorite from the new fall collection. The gradient tint with mirrored lens and olive classic styled frame...perfection! I can't wait to wear these to Barton Springs."
Greta, GLCO Venice, CA
"I love the Mayan because, while I'm a big fan of classic styles, it's fun to switch it up and wear something that gives off a total vibe."
James, GLCO Venice, CA
"I'm loving this Juvee frame! Not really sure why, but it's great."
Adam, GLCO Hayes, CA
"Grant, my personal favorite daily driver, is back again. No-brainer for any occasion... I was wearing one on my wedding day."
Joni, GLCO Hayes, CA
"I am really fond of Fonda."
Cayetano, GLCO Grand, NY
"I love the Mayan in Teen Spirit because it's nostalgic of the nineties—the shape is an ode to Aaliyah, one of my musical icons, whose music was recently released after twenty years."
Olivia, GLCO Grand, NY
"I've always thought round glasses look terrible on my round face, but the Fonda actually compliments me in an unexpected way. The oversized look makes me feel chic, relaxed, and cute!"
Anna, GLCO Grand, NY
"The Palladium is a perfect paradox, totally timeless but also on trend. And who doesn't love a Buddy Holly moment."
Joshua, GLCO La Brea, CA
"I like the Palladium for its bold design. It's something that can be worn as casual or dressed up. It fits the Cali lifestyle."
Vanessa, GLCO La Brea, CA
"I'm already a fan of the Ace sun, so I think it's so cool that they came out with more colors. My favorite new color is the Prosecco because it's less yellow than the pure glass, which I feel is better for warmer tones."
---